Oh man it was soooo nice here this weekend! Long afternoons where the air feels like you are swimming through a warm bath, street ice cream and lemonades, seeing Guest of Cindy Sherman

with a surprise Q&A with the directors afterward, and Record Store Day at Other Music (I got some ELO on vinyl and the Pains dj'ed!) I wish I had photo documentation, but I have been pressing myself to take REAL, 35mm photos whenever possible, so once they are developed...I will proceed to gloat.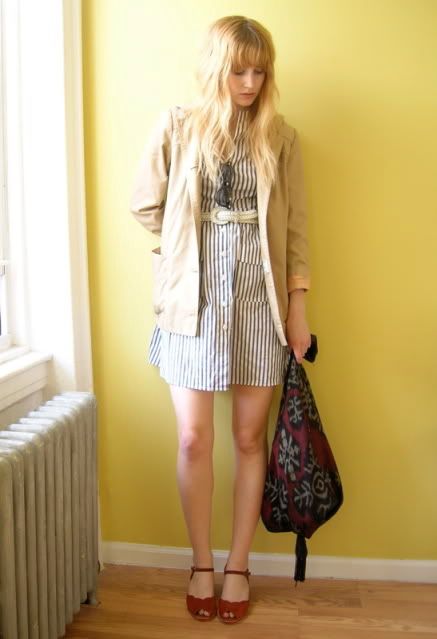 I found this dress at, sigh, Beacon's Closet on Friday. It needed some hacking-at (I took off the silly collar and let out the sleeves), but now it's pretty much perfect, the first of what I hope will be many wonderful dresses to become mine in preparation for the warmer months.
And the shoes! I found them on etsy from
Pink Poodle Vintage
.

They are actually about a half size too big, something that drives me bonkers when it comes to open toed or backless shoes (I can't stand it when there's a gap at the back, or the toes don't end flush with the shoe...oh god it drives me craaazy, even when people assure me they don't notice) but they are SO PERFECT and SO COMFORTABLE that I am SUCKING IT UP.