Well jeez. Here I was, about to just throw in the towel and delete this ol' thing. But then I read the comments a few kind souls left on my last post, and well, I'm giving it another go, for better or for worse. So, what better way to turn over a new blogging leaf than with...SHOES!

I posted a while back about snakeskin, and vowed that before summer was up I would own something made of the exotic stuff. Well, here we are in August and I have recently gotten my hands on the most glorious leather ankle boots with snakeskin detailing!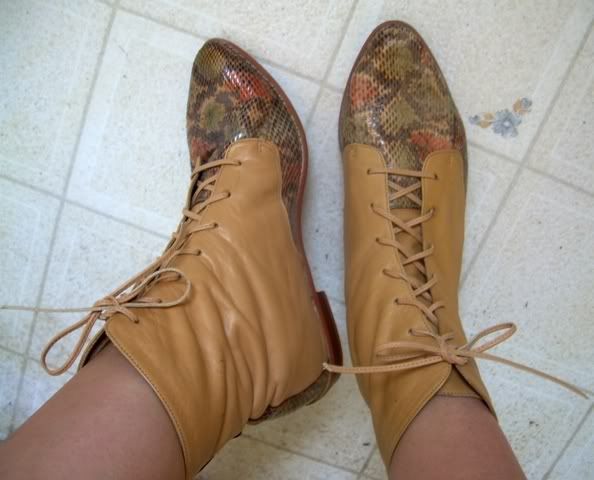 Click for a better view! Seriously, they are the new loves of my life. I look forward to spending many a lonely night come fall cradling them to my chest and whispering sweet nothing into their laces...um, and also wearing them with leggings and tights and silly little dresses!

Also, if any of you are interested, I'm selling those white heart shaped Mango sunglasses I blogged about a while back. I broke down and bought them only to find when they arrived that they were too large for my small, unfortunate face. They'll be up on my eBay till this Sunday night, August 12th. Check em out (there's a link to my eBay over yonder ---->)